EXPLORE PRESCOTT RESTAURANTS
Prescott has it all, including an exciting mix of amazing restaurants. Look no further to find your favorite place to eat—choose from these top picks!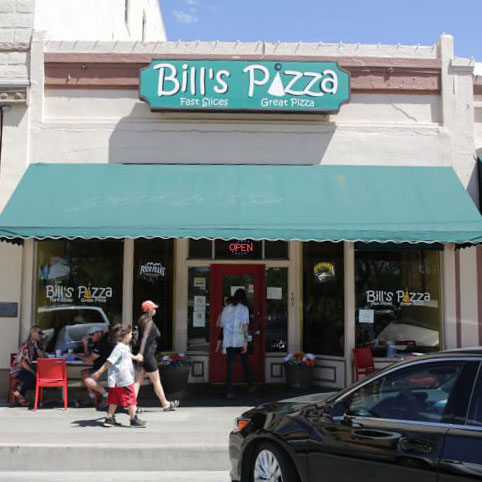 BILL'S PIZZA
107 S. Cortez St., Prescott, Arizona 86301 On the east side of the Courthouse Square on Cortez St.
A local restaurant that the whole country loves.
Located right on Prescott's historic Courthouse Plaza, Bill's Pizza is an icon of local dining. When they say it's the finest pizza in the world, they mean it—Bill Tracy traveled to Italy and all around the US to explore the best pizza-making techniques. He even included a seminar with James Beard award-winning chef Chris Bianco. Bill's quest clearly was successful; not only is this pizza joint popular with Prescott locals, it earned its national fame with a nod from Popular Plates' "100+ Can't-Miss Pizzerias."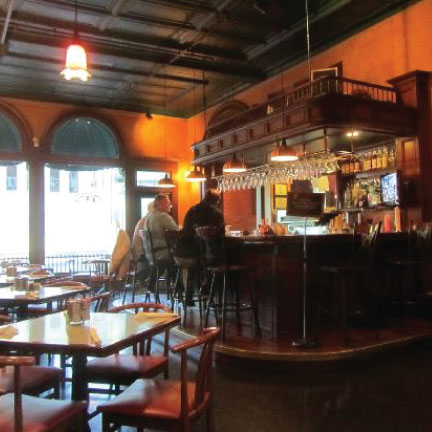 BISTRO ST. MICHAELS
205 West Gurley St., Prescott, Arizona 86301 In the St. Michael's Hotel on the corner of Montezuma St. and Gurley St.
Located in the famous Hotel St. Michael building at 100 South Montezuma Street, Bistro St Michael anchors famous "Whiskey Row" in historic downtown Prescott. Experience the pleasure of crafted comfort food, drinks and outstanding service surrounded with views of the courthouse plaza and Prescott's busy downtown community.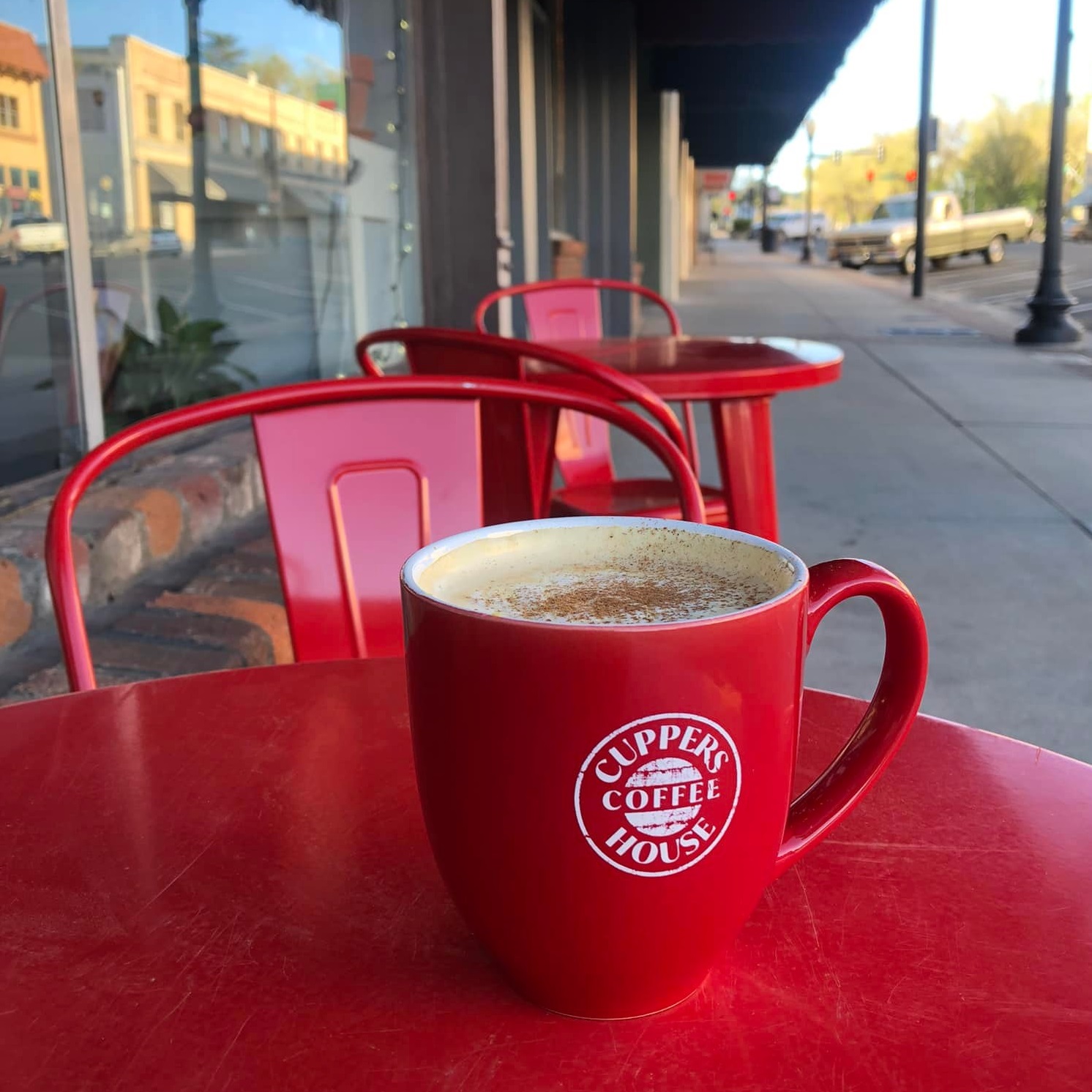 CUPPERS COFFEE HOUSE
224 S Montezuma St., Prescott, Arizona 86301 1/2 block south of the Courthouse Square on Montezume St.
It's the perfect start to your morning.
Cuppers has so many options that it can be hard to decide what you want! Choose from drinks like the Ay Chihuahua mocha (espresso with a true Southwestern flavor) or hot chocolate and dishes like their famous skinny pancakes. It's a hot spot for breakfast and lunch—and has an unbeatable location, too!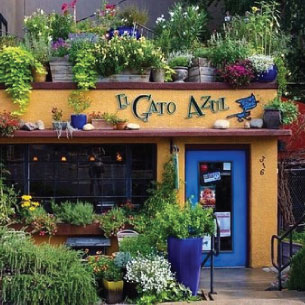 EL GATO AZUL
316 W. Goodwin St., Prescott, Arizona 86301 1 block west of Whiskey Row on Goodwin St.
One of Prescott's most popular local restaurants.
If you want scenic, you've come to the right place. El Gato Azul is just a stone's throw from Granite Creek and offers outdoor dining on a patio in the shade of tall cottonwood trees. Locals' favorites are the tapas (more than 60 are available), weekly dinner specials like Southwest lamb chops, paella, carnitas, and green chile mac & cheese.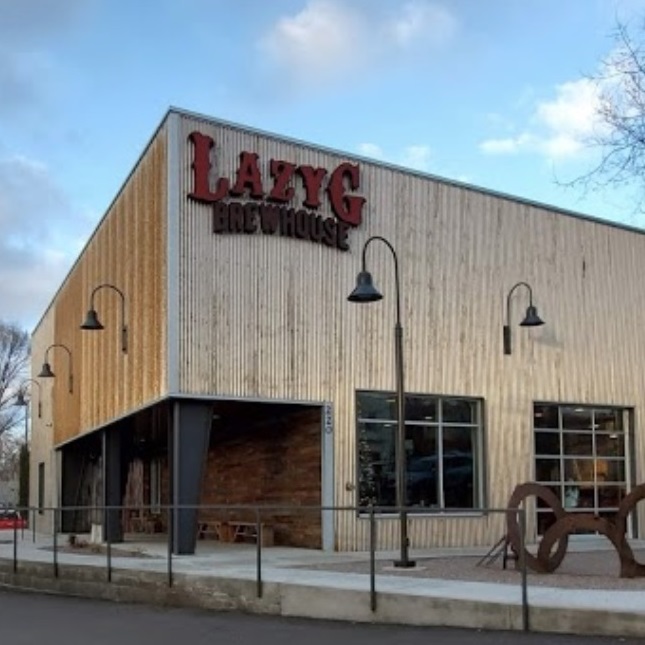 LAZY G BREWERY
220 W. Leroux St. Prescott, AZ, 86303
Experience Craft & Comfort at the LazyG Brewhouse. Starting as a dream that has manifested into a reality, the LazyG Brewhouse is located on the site of an old trailer park that had been in operation since 1945. "The Park", Lazy G's outdoor area offers the comfort of your own backyard with picnic tables, casual seating, fire pits, games, live music and the iconic trailer bar. Come and join us for lunch, dinner, happy hour and a beverage of your choice. Offering 24 taps of LazyG handcrafted beer, wine, and local cider & mead.
As written by: AmericasCuisine.com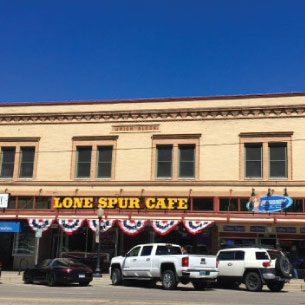 LONE SPUR CAFE
106 W. Gurley St., Prescott, Arizona 86301 On the north side of Courthouse Square.
A little cafe perfect for big appetites.
Known for its large portion sizes, Lone Spur Cafe offers a taste of the old wild west. Try the cowboy version of traditional eggs Benedict, which replaces the hollandaise sauce with country gravy. The French toast, too, has a western spin: it's dusted with corn flakes right before it's set on the grill. Lone Cafe Grill is also open for lunch and dinner.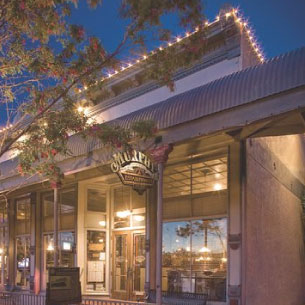 MURPHY'S
201 N. Cortez St., Prescott, Arizona 86301 1 block north of the Courthouse Square on Cortez St.
Upscale dining in a historic Prescott setting.
Murphy's Restaurant is an elegant eatery that is known for its diverse menu and local history. What was once a general store in the 1890s has since been transformed into a top-rated restaurant, all without losing the historic flair. The expansive dinner menu consists of steaks and seafood, including prime rib, tilapia, and king crab. For lunch, the focus is on sandwiches and salads.
PLAZA LIQUOR AND DELI
402 West Goodwin St., Prescott, Arizona 86303
Wood-fired pizza with a wide selection of wine and beer.
Since opening in 2007, Park Plaza Liquor and Deli has expanded from a modest single malt scotch selection to thousands of wine and beer options. The deli offers signature wood-fired pizza, mainstays like Reuben and turkey pesto sandwiches, and a wide offering of cheese and cured meats.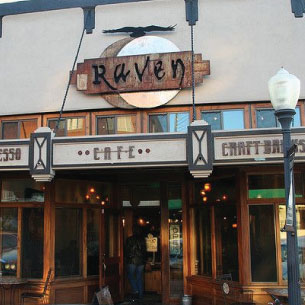 RAVEN CAFÉ
142 N Cortez St., Prescott, Arizona 86301 1 block north of Courthouse Square on Cortez St.
A one-of-a-kind gem in Prescott.
Raven Cafe is a cozy little spot for sandwiches, tacos, soups, burgers, and breakfast and brunch favorites. The craft beer and wine selection is great, as well. But what makes this restaurant unique is that it showcases local artwork and music—bands play every Friday and Saturday night and the current art exhibits rotate every six weeks.
PRESCOTT: MORE THAN A PLACE TO VISIT
Have you fallen in love with Prescott and want to live here as a permanent resident? We're always happy to introduce you to the communities and homes in the area. Contact us and let's talk about your plans.
Let's Stay in Touch
Contact Us today!
Joni R. Cahn | (928) 899-0646
Debora Opitz | 928-925-5842